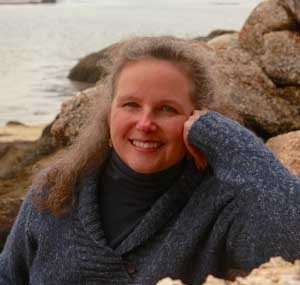 Sarah Sherman McGrail is a seventh generation Southport Island native. She attended the island's three-room school house, graduated from Boothbay Region High School with the Class of 1988, and furthered her education earning degrees in Graphic Arts from Central Maine Community College, a B.A. in English and a minor in Behavioral Science, with Honors, from the University of Maine at Augusta, and a Master's Degree in Criminal Justice from Boston University.
In 1996, Sarah founded her own publishing house, Cozy Harbor Press, Inc., and has since self-published six books—Southport: The War Years, An Island Remembers; Heroes Among Us, A History of Boothbay Region's Veterans During the Second World War; The Littlest Tugboat; Harbor Journal, Vol. 1 (Winner Best Self-Published Book—Maine Literary Awards 2007); Harbor Journal, Vol. II (Honorable Mention—Maine Literary Awards 2009), and published dear friend and original Tuskegee Airman LeRoy Battle's memoirs, And The Beat Goes On in 2008.
In her spare time, Sarah is happiest at her island home or at the family camp in Eustis, Maine; or traveling wherever the road may lead with her husband, Jerry, sons Sherman and Jake; and often with her life-long best friend, Cory Chase, nephew Hunter, and niece Kali. Sarah also thoroughly enjoys cooking, music, photography, and being the only female Boy Scout Scoutmaster in midcoast Maine. She is very proud of the Scouts in Troop 238 and of all their accomplishments.
Author photo by Robert Mitchell.
To contact Sarah, send her a message: